Region 1 Conclaves for 2015
January 17, 2015
Conclave dates around the Region for 2015 have been announced! The following dates and locations are tentatively confirmed for each jurisdiction's annual Conclave:
Vermont:

May 27-31, 2015, Hosmer Point Camp, Craftsbury Common, Vermont

Maine: June 26-28, 2015, Colby College, Waterville, Maine
Connecticut: July 10-12, Central Connecticut State University,

New Britain, CT

Massachusetts: August 7-9, Nichols College, Dudley, MA
New Hampshire: August 7-9, Ni…
---
Awake-A-Thon 2015 is Rescheduled
January 15, 2015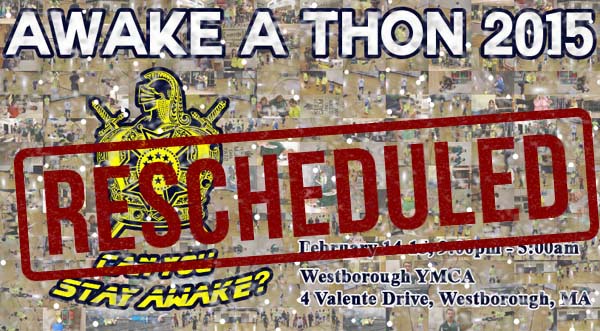 This event has been rescheduled! Awak-A-Thon is now February 21-22!
Ticket Sales Extended to February 16th!

Can you stay awake? Massachusetts DeMolay challenges you to stay awake at Awake-A-Thon 2015! On
February 21-22
, the doors of the
Westborough YMCA
will be open
from 9:00p.m. to 5:00a.m.
to DeMolay and Rainbow alike for a night food, fun, and feverish attempts to stay awake. MacLean Rankin and the State Officers have built the schedule from the gr…
---
2015 Paul R. Kach Essay Contest
January 14, 2015
DeMolay International would like to announce the 2015 Kach Essay Theme! "100 More Years of Frank S. Land's Vision"
Enter the 2015 Scottish Rite, Paul R. Kach Essay Competition and share your thoughts and ideas on the theme: "100 Years More of Frank S. Land's Vision"

All essays must be received by your Executive Officer not later than April 1, 2015. Region Representatives will establish an impartial judging panel for the purpose of determining region winners.…
---
Leadership Training Conference
January 11, 2015
Leadership Training Conference
Save the date!


Sunday August 16 — Saturday August 22, 2015
Lions Camp Pride, New Durham, New Hampshire

Contact your Chapter Advisor for more information!
Region One DeMolay LTC

---
The DeMolay Varsity Club Initiative
August 22, 2014
DEMOLAY INTERNATIONAL "Varsity Club"
What: Internal marketing and motivation program for active membership and advisory council members.
Mission: Create enthusiasm and fellowship for the organization as well as provide opportunity for all members to become active, engaged, and ultimately an "owner" of their chapter experience. As an acknowledgment of their efforts they will be deemed to have "lettered" in DeMolay.
Quarterly measurement – "90 Day clock" - Need to perfo…
Upcoming Events
DeMolay Rush Week March 2015
DI Rush Week
January 14, 2015 to April 01, 2015
DeMolay International Rush Week
In the month of March the DeMolay International Congress is encouraging all DeMolay Chapters to give their best during Rush Week to bring in new members and spread DeMolay everywhere. Rush Week will be March 14-21, 2015. For DeMolay Month we have set a goal of 1000 new members!
The International Master Councilor, International Congress Secretary, and Region Cabinet members are excited to help your jurisdictions and chapters achieve your goal. Join...
Read more...