Leadership Training Conference 2016
June 13, 2016
Leadership Training Conference (LTC) is the premiere event for Region 1 DeMolay. Since its inception, LTC has been bringing DeMolays from across New England and Atlantic Provinces together for brotherhood and learning that revolutionizes the way we think about DeMolay. Over the span of seven days and six nights, DeMolays will grow their knowledge and skills to become leaders in the Chapters and throughout their jurisdictions.
The 2016 Leadership Training Conference will …
---
Golf Tournament
June 01, 2016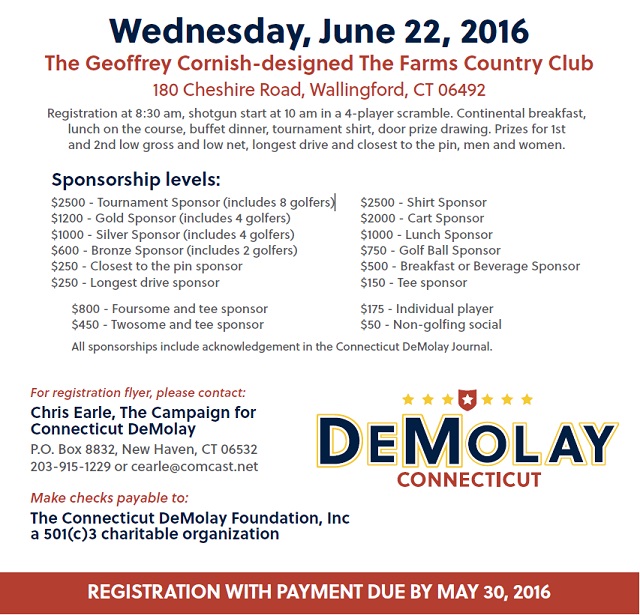 ---
Conclave 2016: MI6 Training Grounds
May 30, 2016

Pick up your dossiers and make your way to Dudley this summer. Now is your chance to become a 00 agent! August 5-7, Massachusetts DeMolay is infiltrating Nichols College for a weekend of fun, food and espionage. Registration is now live for you and your Chapter. Don't miss out on the premier DeMolay event of the year and lose your chance to climb the ranks of MI6. Conclave 2016 with give you the chance to slueth and spy your way through four unique missions. Whether your solving th…
---
New Membership Tool for DeMolays
May 01, 2016

View the Winning Membership Videos from the 48th Annual DeMolay Congress Video Competition!
A major accomplishment of the DI Membership Committee this past June was the development of a Membership Video Competition among DeMolays which could be used as a tool by DeMolays as a recruitment tool for attracting new members.
Upcoming Events
Upcoming Events
February 01, 2016 to August 31, 2016
Dates/Locations for 2016 Region 1 Conclaves including Atlantic Provinces
VT DeMolay - June 3-5, 2016 @ VT Grange Center, Brookfield, VT

ME DeMolay - June 24-26, 2016 @ Colby College in Waterville, ME

CT DeMolay - July 8-10, 2016 @ Central CT State College, New Britain, CT

Atlantic Provinces - July 22-24, 2016 in Moncton, NB

MA DeMolay - August 5-7, 2016 @ Nichols College, Dudley, MA

NH DeMolay - August 26-28, 2016 @ Lions Camp Pride, New Durham,...
Read more...